.........................................
Interesting things you may not have known about
David Blaine
---

1. Full Name - The performer's full name is said to be David Blaine White. This may be based upon the assumption he went under his mother's last name as a child, Patrice White.

2. Birthday – David Blaine was born on April 04, 1973 in Brooklyn, New York. He is currently 35 years old.

3. David Blaine unfortunately never knew his biological father. Instead, his mother remarried to a banker named John Bukalo. This accepted, loving marriage brought forth Blaine's half brother, Michael.

4. Blaine's first effect is said to be the Cigarette Through Card. His mother purchased it for him at a Disney magic shop in Florida, while visiting an aunt for the Summer.

5. As a teenager, Blaine created the eccentric character the public most commonly sees in him. Intrigued by acting and theatre, he always strived to be the center of attention.

6. As a teenager, Blaine already appeared on several commercials and soap operas on daytime television.

7. David Blaine currently has three DVD's out on the international market and a best selling book. In the UK, Blaine has produced Mystifier and Showman—a compilation of his first three national television specials: Street Magic; Magic Man; Frozen in Time. In the US, Blaine featured all three specials on a single DVD entitled Fearless. There are currently two different versions of his book, Mysterious Stranger, which apparently leads the path to a buried treasure in the USA through codes and hidden symbols.

8. Blaine has been said to date some of the hottest names in the business: Fiona Apple, Madonna, and Josie Maran just to name a few.

9. Blaine is known to have created solid friendships with Robert De Niro, Leonardo DiCaprio, Jack Nicholson, and other major actors, using his magic.

10. David Blaine looks up to several magicians for their support and company throughout his productions. One of which is Paul Harris, a respectable icon in the magic community who currently walks all throughout the USA, searching for the meanings of astonishment. Ever since his home burned down with all his belongings, Harris has lived out an extreme life of which Blaine attempts to convey throughout the specials. Harris actually aided Blaine in creating the "urban shaman" approach to connect with total strangers—Blaine talks of Harris in his critically acclaimed book, "Mysterious Stranger."
Welcome to the #1 David Blaine information site including reviews, inside info, and revealed street magic techniques used in Dive of Death
We provide rare information about David Blaine, regarding the magic man and his street magic tricks- including updates on TV appearances such as Dive of Death on ABC. GET IN HERE!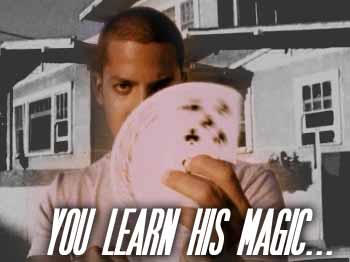 "There are 52 cards a deck....Choose one"
LEARN DAVID BLAINE MAGIC FROM "DIVE OF DEATH"
The man who single-handedly revived street magic has tested the limits of physical ability by enclosing himself in ice, balancing on a pillar and holding his breath underwater for 17 minutes (he broke the world record for that one).
But people remember him most for the simple, elegant, completely mind-blowing street magic from his first special, "David Blaine: Street Magic."
His latest special, "David Blaine: Dive of Death," will be packed with much more street magic than his past TV specials. He performed street magic for people in New Orleans' Ninth Ward, inner-city East St. Louis and coal miners in West Virginia's Mingo County. The reactions he gets from his spectators will be legendary.
Do you think you can perform street magic like David Blaine?
There will never be another David Blaine, but you can add your own personality and get some of the same reactions by learning David Blaine magic tricks.
The amazing miracles Blaine creates with playing cards, dollar bills, coins and watches are accomplished with simple sleight of hand that has been refined over the years. You can learn it with "How to Do Street Magic."
More professional magicians are incorporating street magic into their routines, because audiences love it.
Spectators love street magic because ordinary, every day objects are made to do unnatural, mind-blowing things that bend reality.
Street magic looks more convincing to spectators, because there is no stage, special effects or "lovely assistants." Everything happens in front of their face.
Street magic is accomplished through skilled use of sleight of hand.
In "How to Do Street Magic" you'll learn several ways to bend reality in front of your spectators' eyes. You'll make a card appear where you command, make another card reveal istelf in ashes on your skin, slam a salt shaker right through a table and make coins appear right in front of people's faces. You'll even make a string pass through a ring -- the very trick that inspired Blaine to become a magician.
Once you learn these effects from Brad Christian, who has more than 25 years of experience performing them, you'll be getting the same kinds of reactions.
Article written by Ellusionist.com
Magic Tricks at Ellusionist

Discovered a David Blaine tidbit? TV update? Email us!

This service is free and you can unsubscribe any time
with just a click. Privacy with your email address
is ensured. We hate spam too.